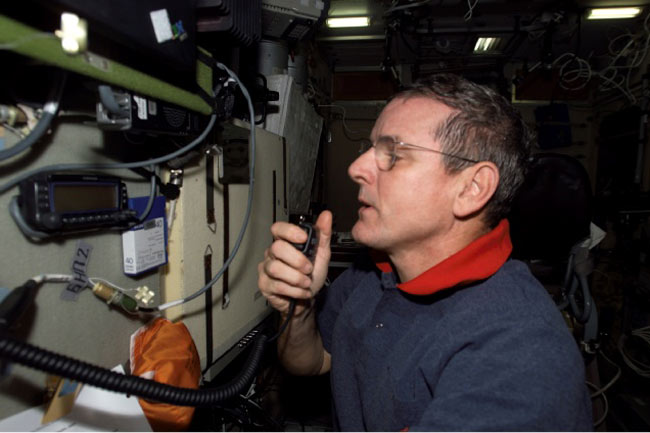 Armed with a video camera and sense of humor, the commander of the International Space Station (ISS) is working hard to show students on Earth the ins and outs of orbital life.
ISS Expedition 12 commander Bill McArthur has tackled everything from a space station tour to the orbital lunch menu in a series of video vignettes aimed at sharing the human spaceflight experience.
"If you think this is really fun, you're absolutely correct," McArthur said this week while narrating a video tour of the space station that he had recorded earlier. "The nice thing is, if you decide it's easier to travel on the ceiling...well, have at it."
McArthur and NASA ISS astronauts since Expedition 7 have documented their experiences via video or other means as part of the agency's educational effort to reach students and the public, NASA education officials said.
For Expedition 12, McArthur and flight engineer Valery Tokarev have highlighted their holiday meals and the differences between Russian and U.S. spacesuits. They have also detailed how the station is controlled by laptop computers, where its power comes from, as well as other facets of orbital living. The programs have aired on NASA TV.
"He loves it," said McArthur's wife Cindy, who also serves as an education specialist at NASA's Johnson Space Center (JSC) in Houston, of her husband in a telephone interview. "He's a talker anyway, he likes to talk."
Cindy McArthur said that the Education Office at JSC works each ISS-bound NASA astronaut to plan out their programs, and also oversees their radio or video downlinks with schoolchildren back on Earth.
While some of the work is planned into an ISS astronaut's daily schedule, many crewmembers choose to use their free time - such as weekends - to record messages, NASA officials said.
ISS Expedition 13 flight engineer Jeffrey Williams, who is set to launch toward the space station next month with mission commander Pavel Vinogradov and Marcos Pontes - Brazil's first astronaut - has said that he hopes to keep journals or log entries to relate his orbital experience.
"This gives [the public] some insight as to what's its really like," said Ed Pritchard, NASA's program director for teaching from space, of McArthur's videos. "That, while things are different up there...they do have the same rigors that they go through."
According to Bill McArthur - who is no small fan of U.S. Army football - some of those rigors are as basic as avoiding doors and using the restroom.
"I'm slowing down because if you slam into one of these hatches...it hurts," McArthur said as he passed the hatches between ISS modules only to reach a vital ISS room. "This is an important an important area in the station and we get a lot of questions about this area. Yes, it's the toilet."
Glib aside, McArthur's videos have touched on almost every aspect of his six-month mission, NASA officials said.
"I think most astronauts are life-long learners," Cindy McArthur said. "They want to share that journey they took to get to the space station...they think about spaceflight and love the connection to life on Earth."
He and Tokarev have lived aboard the space station since Oct. 3, 2005, and have performed two spacewalks, a series of experiments and a Soyuz spacecraft relocation during their mission. The astronauts will return to Earth aboard their Soyuz TMA-7 spacecraft in early April.
"I have always been amazed that I am able to fit into such small location," McArthur said of his Soyuz seat in the video tour.
Even more amazing, the astronaut said, is the view of Earth through the window ports built into the space station's floor.
"You look down, and it's almost as if you're in this great ship that's sailing above the Earth," McArthur said.
Complete Coverage: ISS Expedition 12