Spaceport America is a launching facility for numerous private space companies. Several observers have called it the first spaceport dedicated to commercial spaceflight.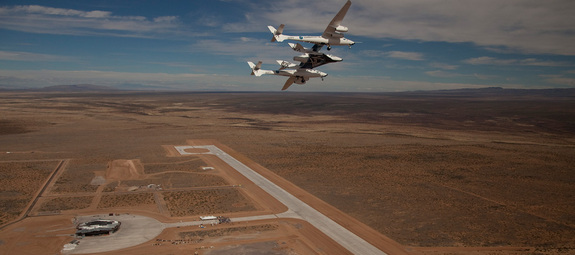 The spaceport broke ground in 2009 in New Mexico and saw its first flights go from a completed launch pad in 2006. However, Spaceport America is not expected to be fully completed until 2013.
Virgin Galactic is considered the anchor tenant of Spaceport America; public money contributed at least $209 million to attract Virgin founder Richard Branson and others to establish facilities there.
In late 2012, rumors emerged in the Associated Press saying that Virgin had not committed to using the spaceport. In the report, Virgin kept its plans vague, but said it is expecting to move when its future headquarters is built up to the standards it needs.
Luring Virgin to the state
The age of space tourism officially launched when SpaceShipOne – financed jointly by Scaled Composites and Microsoft co-founder Paul Allen – successfully flew into space twice in 2004.
By making the trip, SpaceShipOne secured the Ansari X-Prize and $10 million. Its technology impressed Branson, who announced in 2004 that Virgin would fund the development of a successor spacecraft called SpaceShipTwo. He also announced he was taking reservations for commercial tickets to space for an estimated $200,000 apiece.
The X-Prize also spurred interest in Spaceport America. In 2004, New Mexico won a bid to host the X-Prize Cup, which was intended to be an exhibition to showcase the technologies available for space tourism. The first event occurred in October 2005, drawing 20,000 people to Las Cruces.
Two months later, Branson and then-New Mexico governor Bill Richardson announced a deal to bring the Virgin headquarters to the state. The state would build a facility to host several companies, but Virgin would be the chief tenant.
"We're going where no one has gone before. There's no model to follow, nothing to copy. That is what makes this so exciting," Branson said at the announcement that December. "We might even be able to allow those aliens who landed at Roswell 50 years ago in a UFO a chance to go home."
At the time, officials estimated that construction would begin as early as 2007, with the facility opening in 2009 or 2010 for business. Virgin also planned to fly its first commercial spaceflight by the end of the decade.
However, both sides experienced development delays that pushed back their estimates by several years. Reported issues affecting Spaceport America include environmental assessment findings and problems with the design of the headquarters interior. [Photos: Take a Tour of Spaceport America]
Building the facility
Spaceport America is fairly isolated from large population centers, with the largest nearby city being Las Cruces – 55 miles away. Government officials spent several months negotiating with land owners for the space that the facility would require to run commercial spaceflights.
On Dec. 11, 2006, an agreement was brokered allowing for 18,000 acres of state trust land. Participants in the pact included the New Mexico Spaceport Authority, the State Land Office, Sierra County and two ranch owners.
Design concepts for the spaceport rolled out in 2007 as two counties agreed to contribute tax money for the construction. Then in 2008, Virgin signed a 20-year lease agreement with the state of New Mexico to put its headquarters and operations at Spaceport America.
Although some flights were already running from launch pads, the official groundbreaking of the facility didn't take place until 2009. Virgin's "Eve" carrier spacecraft – designed to hoist the first SpaceShipTwo above the ground for suborbital runs – made a flypast during the ceremony.
But officials emphasized that they were not relying on Virgin to make their money. Small satellites for military and research purposes were some of the other client types sought.
"We can't have a spaceport that just has a one-sided mission. Because if that mission has a hiccup, then we and this investment are going to have a very bad day," said Steve Landeene, then-executive director of the New Mexico Spaceport Authority, in 2009. "The key is a diverse portfolio."
Weaning off of public money
In 2011, officials pointed out they needed to transition the spaceport to private money quickly. The state money would run out by the end of 2013, necessitating a move to private operators.
"I'm moving from a state-funded enterprise to a self-sustained enterprise. And that's an interesting transition," said Christine Anderson, executive director of the New Mexico Spaceport Authority, in a 2011 SPACE.com interview.
"Our overhead is very low," she added, "so our costs are very low for certain kinds of missions. We are really accustomed to reusable launch vehicles, so that's our market. That's the holy grail…that's where everybody wants to get to. So I think we're positioned well."
As of late 2012, Spaceport America listed four tenants and customers on their website: Virgin Galactic, Up Aerospace, Armadillo Aerospace and Lockheed Martin. But Virgin's commitment is somewhat in doubt.
The Associated Press reported in 2012 that Virgin was threatening to walk away from its lease agreement if the state refused to pass liability exemption laws for suppliers. Meanwhile, state officials said Virgin had yet to make a deposit for its $1 million annual lease.
Neither Spaceport America nor Virgin has made an official announcement yet about Virgin's future, but in the meantime, the spaceport is working to position itself as much as possible to attract business.
On its website, Spaceport America even has a page for suppliers and contractors who may not be necessarily experienced in aerospace.
The company emphasized that many of its procurement opportunities are for construction, advertising and other fields. It also maintains a list of all of the contractors who have worked on the facility, including designers, operators and constructors.
"A primary objective of Spaceport America is to improve the way the space business works," the company stated.
"Learn how to conduct business with the NMSA (i.e. launch a rocket, take a tour, host an event, film a commercial, etc.) whether or not your business is space-related."
— Elizabeth Howell, SPACE.com Contributor
Related: