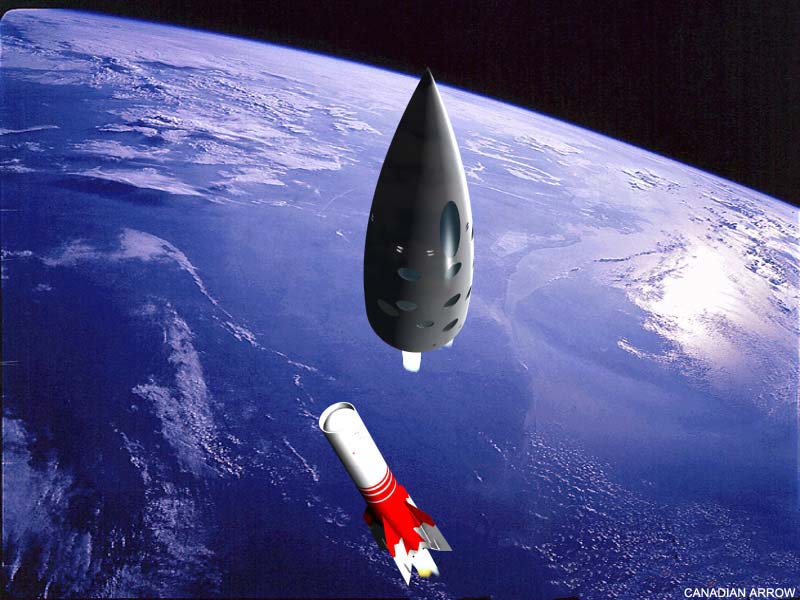 Two former rocketeer rivals are teaming up to develop privately-built spacecraft, officials with both groups said Friday.
Canada's London, Ontario-based firm PlanetSpace and the Romanian aerospace company ARCA - both past competitors in the $10 million Ansari X Prize contest for suborbital spaceflight - are pooling their expertise or a joint space project.
While some details of the partnership remain under wraps, the collaboration will likely include the sharing of technology and other resources, PlanetSpace officials said.
"We both have capabilities to bring to each other," PlanetSpace president and CEO Geoff Sheerin told SPACE.com. "It's a good fit to test out some concepts and ideas."
Sheerin entered the Ansari X Prize with plans for a V2 rocket-derived, reusable manned spacecraft dubbed the Canadian Arrow. ARCA - short for Aeronautics and Cosmonautics Romanian Association - also cast its Orizont vehicle in the manned suborbital contest with plans for a reusable rocket engine built from composite materials.
Mojave, California-based aerospace and aviation veteran Burt Rutan's SpaceShipOne vehicle won the $10 million prize in October 2004.
"By joining forces with one of the leaders in private space exploration, we are certain that we will succeed in creating a reliable and efficient technology, as well as other exciting spaceflight projects," said ARCA president Dumitru Popescu in a statement.
Since the end of the X Prize, Sheerin, ARCA leaders and other former competitors have continued to pursue their goal of offering private flights into suborbital space.
Under PlanetSpace, Sheerin and business partner Chirinjeev Kathuria have settled on a military base near Canada's Cape Rich along the Georgian Bay as the initial launch site for their vehicle. They hope to conduct the first manned test flights of the vehicle by 2007, though plans to test fire a hybrid rocket engine and escape tower have been delayed pending the completion of an environmental study, they said.
"I think you're going to see more groups coming to work together," Kathuria said of the cooperative effort. "It will give us a significant advantage."
Reaching for suborbital space
The Rm. Valcea, Romania-based ARCA also announced Friday that construction is underway for its new suborbital spacecraft Stabilo.
The vehicle is derived from the firm's hydrogen peroxide-powered Demonstrator 2B rocket, which launched successfully in a Sept. 9, 2004 test from an Air Force launch site at Midia Cape on the shore of the Black Sea, they added.
Built primary from composite materials, Stabilo's airframe is about 80 percent complete and should launch on its maiden flight - an automated trip more than 62 miles (100 kilometers) above Earth - within the next 12 months, according to ARCA officials.
Fuel tank tests for the vehicle are slated for January 2006, with engine tests to follow in March, they added.
ARCA has also secured a contract with the Romanian Space Agency's Research Ministry to develop a rocket system to be used for military applications.
Dubbed STRACAAT, the unmanned rocket is slated to simulate airborne targets flying at high altitudes and low altitudes. The rocket is expected to stand 19 feet (six meters) high and weight 881 pounds (400 kilograms) at launch, the company said.
"It's a lot of work that they did," Sheerin said of the ARCA team. "Together we can do some extraordinary things."