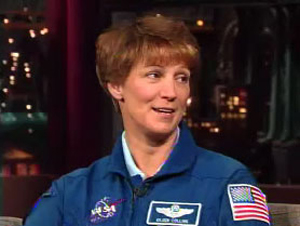 Astronaut Eileen Collins explained to an agog David Letterman Tuesday night that the space shuttle goes from zero to 17,500 miles per hour in less than nine minutes.
"You are hauling," she acknowledged to laughter.
On "The Late Show" on CBS, Letterman prepared a sight gag for the commander of Discovery's recent mission -- a "zero gravity" coffee cup floating on a wire.
"When you're in outer space, everything is weightless. Everything floats," he said, try to manipulate the cup by its handle as water sloshed out.
"You need a way to keep the water in there," Collins said when she saw it.
She outlined the basics of Discovery's mission for the talk-show host, answering his questions about the speed and sensations of launch. "If you had not trained to launch in a space shuttle, you'd be terrified," she said.
Collins also reiterated the crew's commitment to exploring space, despite the loss of seven friends in the Columbia disaster.
"We believe that's what the Columbia astronauts would have wanted us to continue doing," she said to applause.
She said she had no safety concerns about her flight, given the "labor of love" for workers in the space program.
Still, Collins said, "The shuttle program has been tremendously successful, but it's time to move on to something else."
Tonight, Collins, a native of Elmira, N.Y., and her crewmate Charlie Camarda, a Queens, N.Y., native, will toss out first pitches together at the New York Mets baseball game.
Published under license from FLORIDA TODAY. Copyright ? 2005 FLORIDA TODAY. No portion of this material may be reproduced in any way without the written consent of FLORIDA TODAY.
Return to Flight Special Report