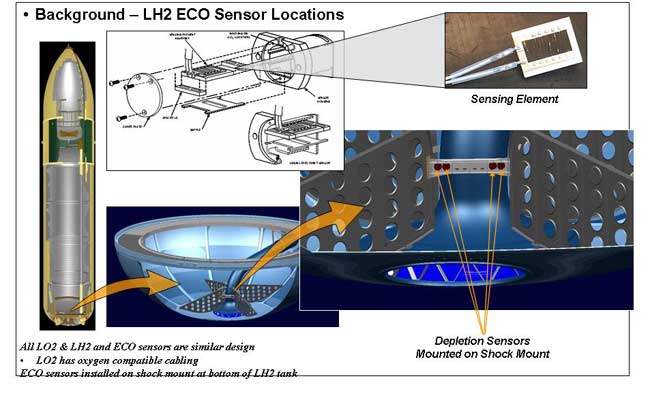 CAPE CANAVERAL, Fla. - NASA is working feverishly to launch the shuttle Discovery before the end of the month, even as engineers struggle to identify and fix a fuel sensor anomaly that scrubbed the orbiter's attempted space shot last week, mission managers said Monday.
"We're still looking for the problem," NASA's shuttle program manager Bill Parsons said during an evening press conference. "This team is trying everything it can to launch in the July window."
Discovery will not launch any earlier than July 26, which is the first opportunity engineers will have to fill its external tank with the super-chilled liquid hydrogen and liquid oxygen propellant used during liftoff, shuttle officials said. But whether shuttle engineers will try and launch day, or simply fill the external tank with fuel to check its performance, is undecided, they added.
"Hopefully, in the next 24 to 48 hours we will find the glitch that's got us all confused," said Wayne Hale, deputy shuttle program manager, during the briefing. "But I think Tuesday [July 26] is probably the earliest we'd be looking for launch even in that optimistic case."
Discovery's STS-114 commander Eileen Collins and her STS-114 astronaut crew will leave KSC this week and return to NASA's Johnson Space Center (JSC) in Houston, Texas for a day of ascent and reentry training, but they should return the same days once the exercise is completed, NASA officials said.
The STS-114 mission is NASA's first attempt at shuttle flight since the 2003 Columbia disaster, and was poised to launch on July 13 when flight controllers received an errant signal from an engine cut-off sensor (ECO) during a standard countdown test.
Launch officials scrubbed the launch attempt after the sensor, one of four liquid hydrogen fuel gauges, failed to respond accurately to a test signal from launch control. Under current flight rules, all four hydrogen sensors - and four others that track liquid oxygen levels - must perform perfectly in order to launch.
For nearly a week, shuttle engineers have struggled and failed to identify exactly what went wrong with the fuel sensor system to cause the errant signal. On Sunday, they attached an external tank simulator to the sensor box aboard Discovery responsible for processing the external tank fuel gauge information to see if it performed as expected, and still found nothing out of the ordinary, shuttle officials said. Earlier today, engineers checked to make sure there were no loose wires in the orbiter's sensor system, they added.
"Our goal is to figure out a path to go find the problem and then obviously try to correct the problem," said Ed Mango, deputy director of orbiter projects at JSC, in the briefing.
Shuttle managers are considering a few approaches leading up to July 26, including a full blown fueling test of the Discovery's external tank, a less extreme test folded into a launch countdown and a flight rule change that would set launch requirements to need only three of the four fuel gauge sensors to operate nominally in order to lift off, NASA officials said.
Before the 1986 Challenger accident, only three of the four sensors were required to perform properly, but the rule was changed when engineers realized that a power failure in the system could cripple two sensors at once, shuttle officials said. During the preparation of Discovery, that sensor power system has been modified to prevent such a failure, they added.
Mission managers at KSC and JSC studying whether to extend Discovery's STS-114 launch window into early August, though the much-sought after lighting conditions to photograph the shuttle's external tank separation gradually worsen after the July 31 deadline. But caution, especially given the risk of human spaceflight, is paramount, they said.
"A few days delay to figure out what is going on and make sure we're safe is always the right answer," Hale said. "It is a business where you have to have patience."
Fixing NASA: Complete Coverage of Space Shuttle Return to Flight