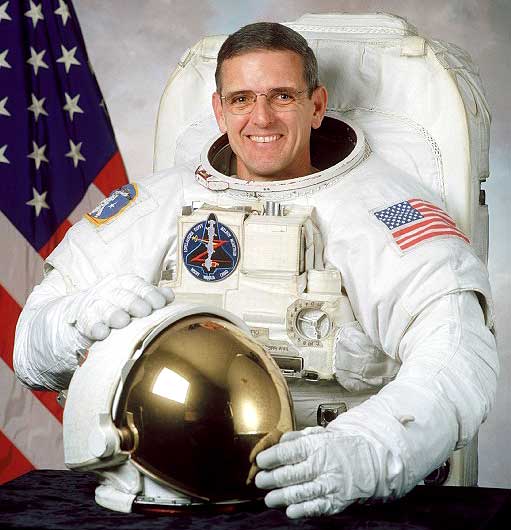 NASA plans to return the International Space Station crew to its original size of three on the second post-Columbia shuttle mission.
NASA and its international partners have named the station's 12th crew.
American astronaut Bill McArthur and Russia's Valery Tokarev will fly to the station on a Soyuz rocket in the fall. McArthur, who lived on the station once before, will be the station's commander.
Thomas Reiter, a European Space Agency astronaut, will be part of their crew too. He will arrive aboard the shuttle Atlantis on the second shuttle mission since the 2003 disaster.
That mission is scheduled for September, so Reiter's six-month stay could overlap the changeover from one crew to the next.
NASA said Reiter's assignment is part of a deal between the Russians and Europeans.
The station's crew was cut from three members to two after the shuttle disaster, because the absence of the shuttles severely limited supplies, including food, water and breathing air.
Reiter's crewmates on the second shuttle mission include commander Steve Lindsey, pilot Mark Kelly and mission specialists Piers Sellers, Mike Fossum, Lisa Nowak and Stephanie Wilson.
Reiter will return to Earth on a later shuttle or Soyuz flight.
Launch delayed again
A Kennedy Space Center launch team will wait until at least Thursday to get a new weather satellite off the ground from California.
NASA rescheduled the launch for Thursday after a connector hose came loose during the countdown to Saturday's liftoff of a Boeing Delta 2 rocket from Vandenberg Air Force Base in California.
The launch window for the NOAA-N weather satellite opens at 6:22 a.m. Eastern time and extends for 10 minutes. The satellite will be used for forecasting and climate research
Published under license from FLORIDA TODAY. Copyright ? 2005 FLORIDA TODAY. No portion of this material may be reproduced in any way without the written consent of FLORIDA TODAY.